Contact Information:
Jason Maxwell , National League Director West | Norma Jean Keefer, National League Director East

Main (720) 248 - 2474


League Rules:
https://drive.google.com/file/...

MSL League History:
Our League was founded in 2008 by Rob Sigmon and some equally crazy friends at The Next Level Church in Denver, CO. After unsuccessfully signing up as a free agent for team in the adult leagues throughout the metro over five years, Rob gave up and grabbed 10 other people who had either never played soccer before or had not played in decades and formed their own team.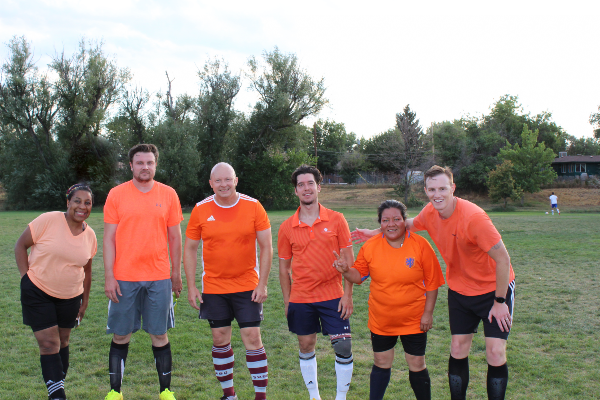 The first team was called Deliriou5? Nightmare. "Deliriou5?" from the British Christian Contemporary band favored at TNL services and "nightmare" to accurately describe their playing style. The team bought bright orange jerseys fashioned after the National Team of Holland (not the Broncos) as several members of th

e team were Dutc

h.
The team joined a local indoor "recreational co-ed" league and lost their first game 0-10. In the first 60 seconds of play, 50 year old keeper, Scott Carlson had his glasses smashed from a direct shot on goal and was bleeding in the box. After the game, Rob asked the captain of the winning team, if they were a "recreational" team? They replied that they were actually the US Air Force team from Colorado Springs but came up to Denver to play in recreational leagues!
The team tried another outdoor adult recreational league only to find that fields were not reserved, nets were not set up, and referees weren't scheduled for their first game. The league required each player to buy an $80 annual soccer association ID after the team paid the season registration fee! Rob thought all of this was a very bad way to run a business and figured he couldn't possibly run a league any worse...Movedon Soccer League was born the next season!
Over the years, thousands of adults of all skill levels have come through the league, participating at our weekly Meetup on Saturdays in Highlands Ranch (which has met EVERY week regardless of weather, since 2009) or through our Sunday afternoon or Wednesday night leagues in south Denver and Sheridan.
And what happened to Deliriou5? Nightmare? It's still in the league and has won seven league championships, the most of any team in the league. Proving that perseverance and commitment still win in the long run! All league champions are etched into the League Chalice after each season for posterity.
The league has remained co-ed and recreational and has never required individual player association fees. Teams can register at one time or free agents can register independently and ARE assigned to a team or they can play with some friends on the same team. The league uses certified USSA referees placed through the referee management system, www.herdofzebras.com. MSL games continue to be played year round (outdoor in spring, summer, and fall, indoor over the winter) in all sorts of Colorado weather. As long as the fields are open - we play!
MSL remains committed to offering a fun and welcoming atmosphere for men and women (ages 16+) of all (or no) playing background to improve their performance on the pitch and have a blast playing the beautiful game. We are an inclusive league with players from all over the world, with different backgrounds and beliefs. We remain the recreational alternative over highly competitive adult leagues. Over the years, we have grown to as many as 16 teams in three different leagues. We look forward to having you join us for our next season!
2023: Stay tuned for coming leagues in the following areas of South Florida, Orlando, Tampa, San Antonio, Raleigh & Baltimore. We are hiring league managers to help us with our mission of bringing fun to the game of soccer. Please contact us info@movedonsoccer.com.